Blacktop Driveway, Clermont, FL
Call us today to request a quote for your new blacktop driveway in Clermont, FL.
Blacktop Driveway in Clermont – A blacktop driveway can be a simple, attractive, and cost-effective way to revamp the curb appeal of your home. In addition, the ease of maintenance of these types of driveways means that even large driveways can be paved relatively quickly and easily. For those with an existing blacktop driveway that's beginning to show signs of wear and tear or age, sealing or replacing the wearing surface can be a simple way to improve the look as well as the lifespan of the entire driveway.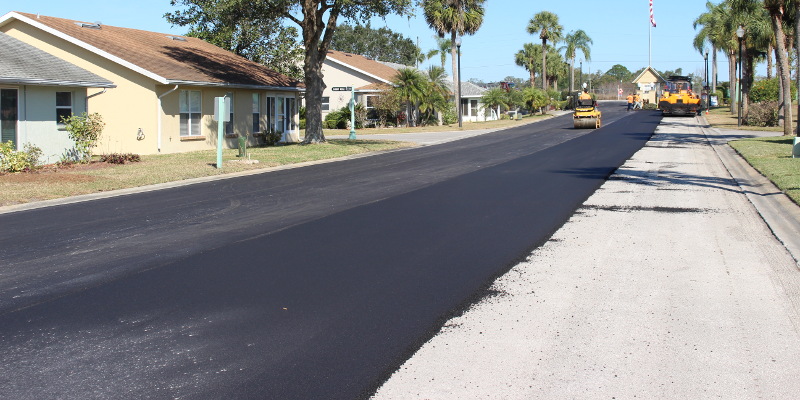 Perhaps the most important aspect of a long-lasting and appealing driveway is the sub-base. Just like any home needs a solid foundation on which to rest, your blacktop driveway will break apart and fail much sooner if it's not built on top of a sub-base that is adequate for the loads placed on it with drainage suitable for the site and climate.
Proper maintenance can also lengthen the useful life of a blacktop driveway, in addition to lowering long-term maintenance and repaving costs. Depending on a multitude of factors, this maintenance can occur as frequently as every three years or as sparingly as every five years. With regular maintenance, proper drainage, and a suitable climate, a blacktop driveway can last 20 or 30 years. Perhaps the most important factor, however, is the work done during installation. Working with a known paving company with a history of quality work is by far the best way to know that the work and product you're paying for will last for many years to come.
At AAA Top Quality Asphalt, we have been helping all types of clients in the Clermont, FL area with their paving needs for many years. We put our customers first and pride ourselves on doing the job right the first time. Call us today to request a quote for your new blacktop driveway.
At AAA Top Quality Asphalt, we install blacktop driveways in Lakeland, Brandon, Tampa, Winter Haven, Clermont, Plant City, Mulberry, Davenport, Lake Wales, Riverview, Winter Garden, Kissimmee, Maitland, Orlando, St. Petersburg, and Auburndale, Florida.