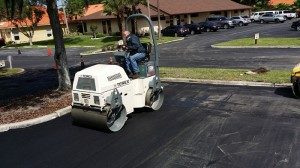 For commercial property owners, asphalt parking lots and driveways are aesthetically pleasing, and they offer a high ROI; plus, there are other advantages that make asphalt the preferred choice over other materials. For example, it's durable, flexible, water-resistant, and maintenance requirements are minimal.
However, to keep this surface performing and looking at its very best, you may need to periodically consider asphalt resurfacing.
Over time, asphalt becomes worn. With constant use, it can develop depressions and cracks that eventually create a potentially dangerous environment. These problems should be addressed in a timely manner before they cause injury or incur expenses. Not correcting a dangerous environment puts your employees and customers at risk of serious injury.
Resurfacing can take care of all these issues. The process involves applying a new layer to the existing surface to cover up cracks and reinforce other weak spots. Resurfacing is not to be confused with seal coating; it's a much more complex process, but like seal coating, it also provides a more attractive, smoother finish.
While asphalt resurfacing is the solution to a number of problems, sometimes complete replacement is necessary. That's why you should speak to our professionals about your situation to decide what the best course of action is.
At AAA Top Quality Asphalt, we provide a self-contained, turnkey, multifaceted solution for developers, property owners, municipalities, general contractors and homeowners in Lakeland, FL and surrounding areas. Please contact us for more information. "Coverage you can count on!"