Parking bumpers are called many different things, including wheel stops, bumper blocks, curb stubs and parking chocks. Whatever you call them, the idea is simple. They are made of precast and reinforced concrete and are placed at the front of your parking spaces. Parking bumpers can be used in all types of parking lots, including retail lots, industrial lots, public lots, school lots, church lots, restaurant lots and many others. They may also be used at ATMs, near fire hydrants or at drive-thru windows.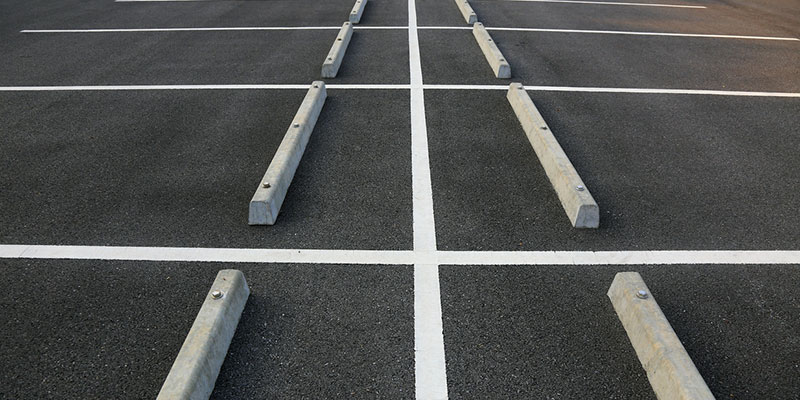 The purpose of parking bumpers is pretty simple. They are a form of protection. They protect the nearby buildings from vehicle damage. They protect the movement of pedestrians on sidewalks by preventing you from parking your car with the front bumper hanging over the sidewalk. They also protect parked vehicles from being struck by nearby traffic. They can protect your signage, utility poles, shopping cart returns and shopping carts, garbage receptacles like dumpsters and they can reduce unsafe maneuvers by impatient drivers in your parking lot (like people "cutting through" your parking spaces).
Because they are made with reinforced concrete, parking bumpers are strong and long-lasting. They are usually 6 feet long (though you can get customized ones if needed). They are designed with a taper on either side that protects vehicle tires from punctures and relieves the impact pressure when a vehicle comes into contact with the parking bumper. You can also purchase parking bumpers that are pre-painted in safety yellow or blue for handicapped spaces.