We have the expertise and equipment needed to satisfy your demolition needs in Lakeland, FL.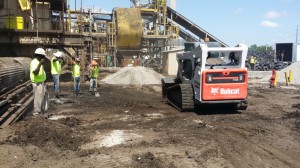 The demolition of any type of property requires the equipment and expertise provided by a professional demolition company. Not only will they have the manpower to provide expert removal of any home, business, or building structure, but they will also know the property safety regulations to maintain a safe site and ensure the proper removal and cleanup after that demolition process is complete. Before, during, and after demolition, your demolition company will provide a clear plan of action, execute the demolition successfully, and ensure that your property is prepared for the next job.
Demolition in Lakeland – If there is a demolition project that you have been avoiding, don't put it off any longer. Our team at AAA Top Quality Asphalt is ready to do the job for you. We have the expertise and equipment needed to complete the job and satisfy your demolition needs in Lakeland, Florida.
You may need demolition services if you have any type of building or structure that needs to be removed. This could be a large cement wall or an entire home/office. Demolitions are mostly used as a way to clear out an area to be excavated. Demolitions can be messy and overwhelming, which is why it is important to hire experienced and licensed contractors. We know how to properly remove fixtures without putting other structures in harm's way.
With our demolition services, you do not only have to worry about other structures and buildings being affected. It takes careful planning and mapping to correctly and safely take down a wall or building. It also takes large and expensive equipment. We have everything needed to get the job done without causing exterior damage.
With our demolition services, we will take the time to fully understand your requirements for your property in Lakeland, Florida and provide you with all of the necessary communication as the demolition process takes place. Whether you are planning to rebuild on the site afterwards or you have other plans for the area in which the building once stood, we will make sure to leave your property in great shape and ready for whatever may come next. It is important to us that you not only feel comfortable through the entire demolition process, but also that you know you have a reliable and experienced team on the job from start to finish.
We believe that the customer comes first and offer only high-quality demolition services. We know that you will be satisfied with our work and affordable prices. We even offer 12-month financing! We have years of experience and use only the highest quality products. If you are in need of demolition services, call us today to get started!
---
At AAA Top Quality Asphalt, we offer demolition services in Lakeland, Brandon, Orlando, Tampa, Plant City, Winter Haven, Clermont, Mulberry, Davenport, Lake Wales, Riverview, Winter Garden, Kissimmee, Maitland, St. Petersburg, and Auburndale, Florida.