Asphalt sealer wears off over time, so you should it professionally applied every 2-3 years on your Winter Haven, FL property.
Asphalt Sealer in Winter Haven – Applying asphalt sealer is an important part of preventative maintenance for your asphalt driveway or surface. Having asphalt sealer properly applied not only extends the life of your asphalt surface, but it looks great, too.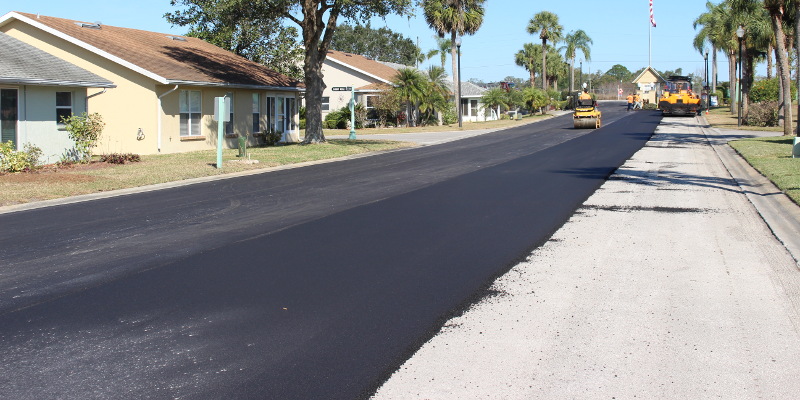 Asphalt sealer helps to prevent moisture from entering your asphalt. When moisture gets into an asphalt surface, it can cause the asphalt to bulge and crack. Asphalt sealer also helps prevent oxidization of your asphalt. When oxidization occurs on your pavement, the asphalt will become brittle over time and crack, which leads to more costly and involved repairs to your driveway or parking lot. Asphalt sealer wears off over time, so you should have it professionally applied every 2-3 years. How often you have it applied will depend on the volume and type of traffic contributing to the wear.
At AAA Top Quality Asphalt, we have over ten years of experience serving the Winter Haven, FL area with all of their asphalt sealer needs. Having asphalt sealer professionally applied to your asphalt surfaces will protect your asphalt investment and provide added curb appeal for your home or business. Having a professional seal your driveway is also an investment worth its weight in gold. Our friendly service professionals are experienced in prepping your asphalt prior to sealer application. We will ensure that any cracks and edging are taken care of before applying the sealant, to ensure that your driveway looks good as new.
With our team at AAA Top Quality Asphalt, you can rest assured that you will have a positive experience and be proud of the finished product. We put our customers first without sacrificing quality of work. Repaving your driveway or parking lot is expensive, so have it sealed and save the cost of complete replacement. Call us today to schedule a sealing for your asphalt surface.
At AAA Top Quality Asphalt, we offer asphalt sealer services in Lakeland, Clermont, Tampa, Winter Haven, Brandon, Plant City, Mulberry, Davenport, Lake Wales, Riverview, Winter Garden, Kissimmee, Maitland, Orlando, St. Petersburg, and Auburndale, Florida.