Demolition, Winter Haven, FL
We have the expertise and equipment needed to satisfy your demolition needs.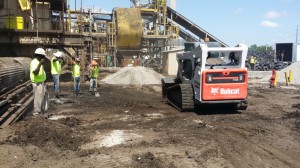 Demolition in Winter Haven – If there is a demolition project that you have been avoiding, don't put it off any longer. Our team at AAA Top Quality Asphalt is ready to do the job for you. We have the expertise and equipment needed to complete the job and satisfy your demolition needs in Winter Haven, Florida.
You may need demolition services if you have any type of building or structure that needs to be removed. This could be a large cement wall or an entire home/office. Demolitions are mostly used as a way to clear out an area to be excavated. Demolitions can be messy and overwhelming, which is why it is important to hire experienced and licensed contractors. We know how to properly remove fixtures without putting other structures in harm's way.
One Important Step Before Demolition
Depending on the type of demolition project you are planning, there is one important step you should take before you schedule a construction crew with their equipment: an inspection. In order for your demolition project to be a success, you want to make sure the building in question doesn't pose any physical or unseen hazards to the workers, you, or the job site. For example, an inspector can determine if there is mold or asbestos that needs to be properly contained, or they may determine that a specific portion of the building should be broken down in a specific way for safety reasons.
With our demolition services, you do not only have to worry about other structures and buildings being affected. It takes careful planning and mapping to correctly and safely take down a wall or building. It also takes large and expensive equipment. We have everything needed to get the job done without causing exterior damage.
We believe that the customer comes first and offer only high-quality demolition services. We know that you will be satisfied with our work and affordable prices. We even offer 12-month financing! We have years of experience and use only the highest quality products. If you are in need of demolition services, call us today to get started!
---
At AAA Top Quality Asphalt, we offer demolition services in Lakeland, Brandon, Orlando, Tampa, Plant City, Winter Haven, Clermont, Mulberry, Davenport, Lake Wales, Riverview, Winter Garden, Kissimmee, Maitland, St. Petersburg, and Auburndale, Florida.