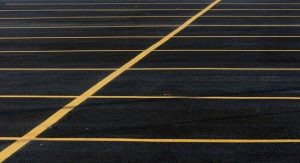 There are several different kinds of paint that can be used in parking lot striping: oil/solvent-based paint, water-based paint, thermoplastic paint, and reflective paint. Let's get a little more familiar with each of the paint types to help you figure out what type of paint would best suit your needs.
Oil/solvent-based paint. The key ingredient to these types of paint is oil. This type of paint is desirable in climates that reach freezing temperatures because oil based paints won't freeze. Water based paints tend to break down in colder climates and won't last as long. Oil based paints are the most widely used because they offer the best durability for the cost. There are paints that are more durable, but they will cost more. There are varying qualities of oil-based paints you can choose, depending on the type of painting you need done. A highly trafficked parking lot may benefit from a higher-quality paint, so it won't have to be re-done frequently.
Water-based paint. Water-based paint is the cheapest type of paint on the market. It is also the least harmful to the environment, since water is its primary ingredient. Water based paint can dry very quickly and is a great paint choice for companies that strongly believe "time is money". Water-based paints can be traffic ready 15 minutes after application, providing very limited interruption for your customers.
Thermoplastic paint. Thermoplastic paint contains plastic, which makes it more durable than normal paints. It is an ideal choice for parking lot striping because it will last a long time and the striping won't have to be redone very frequently. The downside is the cost. Thermoplastic paint is the most expensive type of paint used in parking lot striping.
Reflective paint. Reflective paint has glass beads added to the paint, which makes it highly reflective at night. Generally, reflective paint is used for striping roads or informational road markings, but it is an option for parking lot striping if you feel that it would benefit your business.
At AAA Top Quality Asphalt, we are more than happy to answer any further questions you have about your parking lot striping job. Contact us today for more information.