Road Safety Devices, Winter Haven, FL
We can install a variety of road safety devices in Winter Haven, FL, including speed bumps, detectable warning grids, bollards, and more.
Road Safety Devices in Winter Haven – Road safety devices are all around us as we drive on the road or in a parking lot. These devices are there to help keep others and us safe. Some of the road safety devices available are: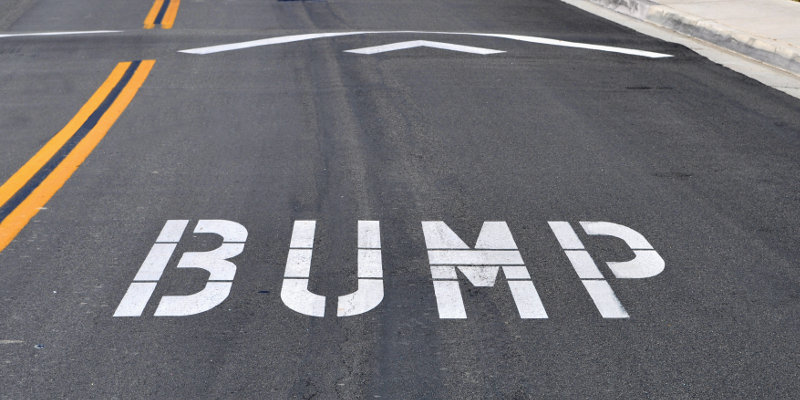 Speed Bumps. Speed bumps can be made from asphalt or even rubber. They are a great way to deter vehicles from speeding, or compel them to slow down in certain areas.
Traffic Cones. Traffic cones are the best way to keep vehicles from driving in a certain area, or to remind them to pay more attention to that section of road.
Roadway Reflectors. Road reflectors are also known as raised pavement markers. These markers come in multiple colors and shapes, and are used as a way to mark the road. They are raised so that they can reflect vehicles' headlights to help a driver's vision of the road lines at night.
Detectable Warning Grids. These grids are typically placed at intersections on the corner of a sidewalk. These raised nodules have been called "Braille for feet" and are used as a way to warn pedestrians, especially those who are blind, that they need to stop.
Bollards. Bollards are posts usually made out of a strong material like concrete. They can be placed in front of stores, at sidewalks by intersections, or around any other area that needs to be protected from vehicles. Bollards act as a defense against dangerous or erratic drivers and are a good way to keep customers and residents safe.
If you are in the Winter Haven, Florida area and are looking for road safety devices, our team at AAA Top Quality Asphalt has them for you. We offer a wide selection of road safety devices and road signs and have the knowledge and experience needed to install them correctly. Come and see us today, so we can help you make your property a safer place to travel.
At AAA Top Quality Asphalt, we install road safety devices in Lakeland, Brandon, Tampa, Winter Haven, Winter Garden, Clermont, Plant City, Mulberry, Davenport, Lake Wales, Riverview, Kissimmee, Maitland, Orlando, St. Petersburg, and Auburndale, Florida.