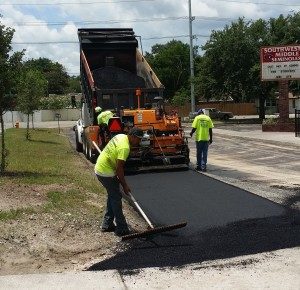 Trench cuts, potholes and other asphalt repair issues are the bane of road crews and public works managers. Time-consuming, ubiquitous, expensive-to-fix repair work not only ties up traffic, but it is also hazardous to pedestrians, passenger cars, cyclists, trucks, and skaters.
However, the technology behind infrared asphalt repair allows county, city and state road crews to save tons of material, labor costs and time in repairing dangerous alligator cracking, failed utility cuts, potholes and other surface defects that plague asphalt parking lots and streets all year round.
Infrared technology also offers superior repairs to parking lots, driveways and roads and can save up to ⅔ of the cost of traditional methods. In comparison to traditional repair, which involves the removal and replacement of old asphalt from a damaged area, infrared technology speeds up the job by compacting, fusing and heating recycled asphalt, which, in the process, saves labor, equipment and new material.
Restorations with infrared fuse to the existing asphalt, creating a seamless surface that negates the need to tack-coat the edges. Because there are no seams, the road can be opened to traffic immediately, and durability is enhanced. It also makes the process cheaper because only a single trailer or truck is used, and crew size is typically limited to two.
Also, infrared repair withstands traffic and weathering better, which means it will last longer than traditional asphalt repair jobs.
At AAA Top Quality Asphalt, we provide a self-contained, turnkey, multifaceted solution for developers, property owners, municipalities, general contractors and homeowners in Lakeland, FL and surrounding areas. Please contact us for more information. "Coverage you can count on!"