Many homeowners in Lakeland, FL are adding asphalt driveways and walking paths to their homes for convenience and safety.
Asphalt in Lakeland – Asphalt is a material that is commonly used in construction to pave roads, driveways, walkways, and other paths. It is highly viscous and is sometimes referred to as bitumen. When used for paving purposes, asphalt is mixed with other aggregate materials to make concrete, and it is the glue that binds all materials together. It is the residue that results from the distillation process of various types of crude oils, and some people refer to it as tar. Because it comes from oils, asphalt is also naturally waterproof, which is why it is so popular in the construction industry.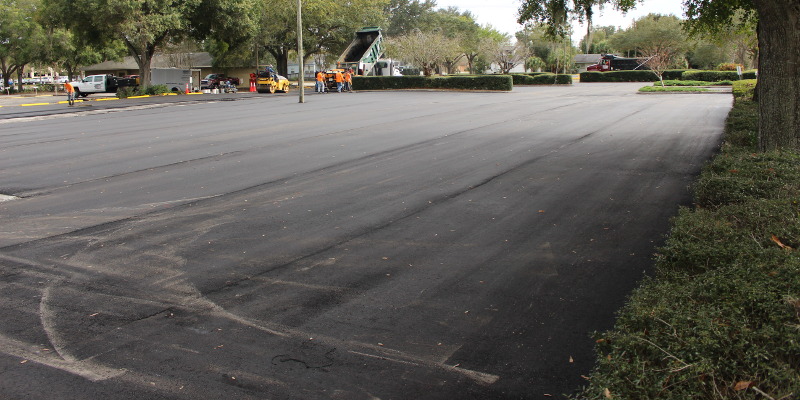 About 85 percent of the asphalt used across the United States is for road surfaces, but only about 5 percent of these mixtures are actually concrete. The other 95 percent is made from aggregate materials such as gravel, stone, and sand. Most new road construction and repair requires the use of asphalt, and it is becoming more common for use at residential properties as well, since it is much cheaper than concrete. Many homeowners are adding asphalt driveways and walking paths to their homes for convenience and safety. Some people even choose asphalt for pool decks and other outdoor areas.
The addition of asphalt can be especially advantageous, as it is designed to last for many years, and if properly cared for, will need little to no maintenance. In the event that your asphalt paving requires pothole repairs, repaving, or complete removal, hiring an asphalt contractor is often the best way to enjoy lasting results from your new surfaces. An asphalt contractor can assess your current asphalt paving, determine the best type of repairs or paving requirements, and provide the solutions needed to restore your driveways, walkways, and other paved surfaces for improved safety and aesthetic appeal.
At AAA Top Quality Asphalt, we have more than a decade of experience providing quality asphalt solutions for residential, commercial, municipal, and industrial applications, and we pay meticulous attention to detail at every job site. Whether you require a new asphalt paving installation or you have damaged asphalt that needs to be removed, we can successfully manage your location with skill and expertise. We will even remove broken and cracked asphalt to leave your property with a clean and environmentally friendly surface for future use. We treat each of our clients with the utmost respect, and we will give your property the same considerations, whether it's our first time on the job or you require our services for repeat business.
If you are looking for an asphalt provider in the Lakeland, Florida area, give us a call at AAA Top Quality Asphalt. We always put our customers first to ensure complete satisfaction. Our team works from 8 a.m. until 5 p.m., Monday through Friday. We also provide estimates and offer environmentally friendly solutions for paving. Please contact us today for more information.
---
At AAA Top Quality Asphalt, we offer asphalt services in Lakeland, Brandon, Tampa, Plant City, Winter Haven, Clermont, Mulberry, Davenport, Lake Wales, Riverview, Winter Garden, Kissimmee, Maitland, Orlando, St. Petersburg, and Auburndale, Florida