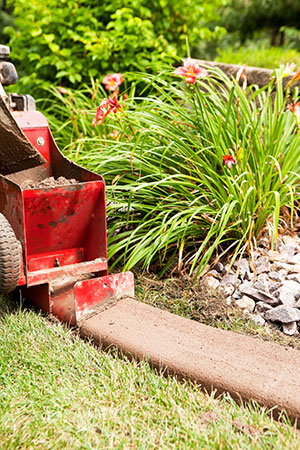 The most well-known use of concrete curbing is on sidewalks, parking lots, and along roadways, but there are many different uses for this versatile feature. Concrete curbing is an edging material that is useful to create boundaries, such as along roads, to make a smoother sidewall for sidewalks, and to make a border with landscaping and other yard features.
There are many different types of border and edging materials to choose from, but concrete is one of the most durable and long-lasting options. You may consider concrete boring and utilitarian, but modern methods of concrete can make it much more visually appealing with the use of colored and stamped concrete. Concrete can even be made to look like more expensive materials, such as brick and natural stone, without the cost of the raw materials and more complicated installation process.
Concrete curbing can work well in many different applications, and since it is such a versatile material, it can accommodate almost any shape. It is easy to maintain, strong, and durable. It can also complement any design aesthetic and is an excellent, budget-friendly option.
At AAA Top Quality Asphalt, we offer concrete curbing for residential and commercial properties in the Lakeland, Florida area. Our team has a quality concrete department and experience in delivering excellent results. We are meticulous and strive to meet and exceed your expectations while offering superior customer service. If you are looking for the best team for the job, no matter your goal or scale, reach out to us. We have the experience and expertise to bring your vision to life. Give us a call today to discuss your project and schedule with our skilled team!