Our team of experienced experts has the skills needed for any demolition job in Brandon, FL, be it large or small.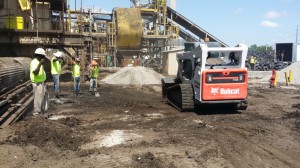 Demolition in Brandon – Perhaps you have a brilliant idea about a new building or landscaping design that you want to put on your property . . . yet you have one small (or not so small, as the case may be) problem—an old building or structure that must first be removed. When you have an old or unusable building that needs to be removed in order to make way for a new development, the task can seem daunting. Therefore, you may be tempted to simply avoid dealing with it until the last possible moment. At that time, you may end up feeling stressed about time constraints, needed equipment and the ability to get the building taken down quickly, effectively and safely. If this situation sounds familiar, you need demolition services from us at AAA Top Quality Asphalt.
Our team of experienced experts has the skills needed for any demolition job, be it large or small. We take the time to carefully plan and execute the demolition in order to protect other buildings or surrounding structures. If you want only part of a building removed, such as knocking down an interior wall, we have the materials necessary to accomplish the job effectively and carefully, without damaging any other part of your building.
If you require demolition services in Brandon, FL, contact us. We offer you the highest quality in materials and services. As part of our commitment to your satisfaction, we are pleased to offer financing options in order to get you the demolition services you need at a price you can afford. Let us help you make your brilliant idea a reality today!
---
At AAA Top Quality Asphalt, we offer demolition services in Lakeland, Brandon, Orlando, Tampa, Plant City, Winter Haven, Clermont, Mulberry, Davenport, Lake Wales, Riverview, Winter Garden, Kissimmee, Maitland, St. Petersburg, and Auburndale, Florida.